For several months the monopoly media has unleashed a torrent of disinformation to conceal the reality of events in Ukraine, attribute the acuteness of problems to Russia or more recently "pro-Russian separatists," and conceal the subversive role of the U.S., EU and NATO. On April 14th, Stephen Harper, without offering any evidence whatsoever, went on national TV to blame "Russian provocateurs" for the civil disobedience that has broken out in eastern Ukraine. This framed a so-called "anti-terrorist operation" launched by the putschist government on April 13 against an anti-fascist resistance movement that has been sweeping eastern Ukraine. Presto, an antisemitic flyer attributed to one of the leaders appeared in Donetsk. Behind the cloak of high ideals, U.S. Secretary of State John Kerry then ensured that its existence was known to the world.
Nonetheless, the chief rabbi of Donetsk states the pamphlet is fake, claiming it is meant to discredit either the anti-coup, anti-fascist resistance or the Jewish community in eastern Ukraine, according to Alex Luhn, theguardian.com, reporting from Donetsk. Nonetheless, he fails to mention the presence of CIA director John Brennan in Kiev. Brennan secretly entered Ukraine on April 11th or 12th with a false passport several days before the launching of the 'anti-terrorist operation." It was later acknowledged by the White House as a "routine visit," when the whole world knows there is nothing "routine" about the CIA apart from the organization of coup d'états, subversion and drone warfare.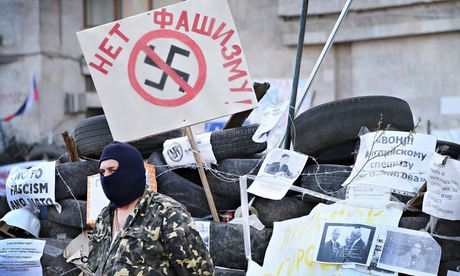 (18 April 2014) – The barricades that mark the entrance to the "Donetsk People's Republic" are plastered with anti-fascist posters, including an American flag with a swastika in place of the stars. The pro-Russian protestors who have set up their own government in the occupied administration building see the new Kiev regime as dominated by intolerant Ukrainian nationalists, which is why it was more than a little ironic when an antisemitic flyer appeared on Wednesday ordering Jews to register with these new authorities.