Arrested men told Haitian police "they were on a mission, and they didn't have to speak to [the police]… They said they were on a government mission" | "US officials deny any active covert operation on the ground in Haiti." [1]
The Haitian National Police has charged five Americans who claimed to be on "a government mission" on charges of possession of illegal arms and other crimes after they were found with several assault rifles and weapons, bulletproof vests, drones, passports, satellite phones and license plates. The group of men were detained Sunday evening in central Port-au-Prince according to reports in Haitian Times and the twitter feed of journalist and film-maker Kevin Pina of @HaitiInfoProj.
In all, eight individuals, including a Russian, Serbian (a permanent US resident) and Haitian national, were arrested in Port-au-Prince, Joel Casseus, the head of the Port-au-Prince police station, told the Miami Herald in an interview confirming the arrest at a police checkpoint.
Here are pics of weapons and gear found in their possession: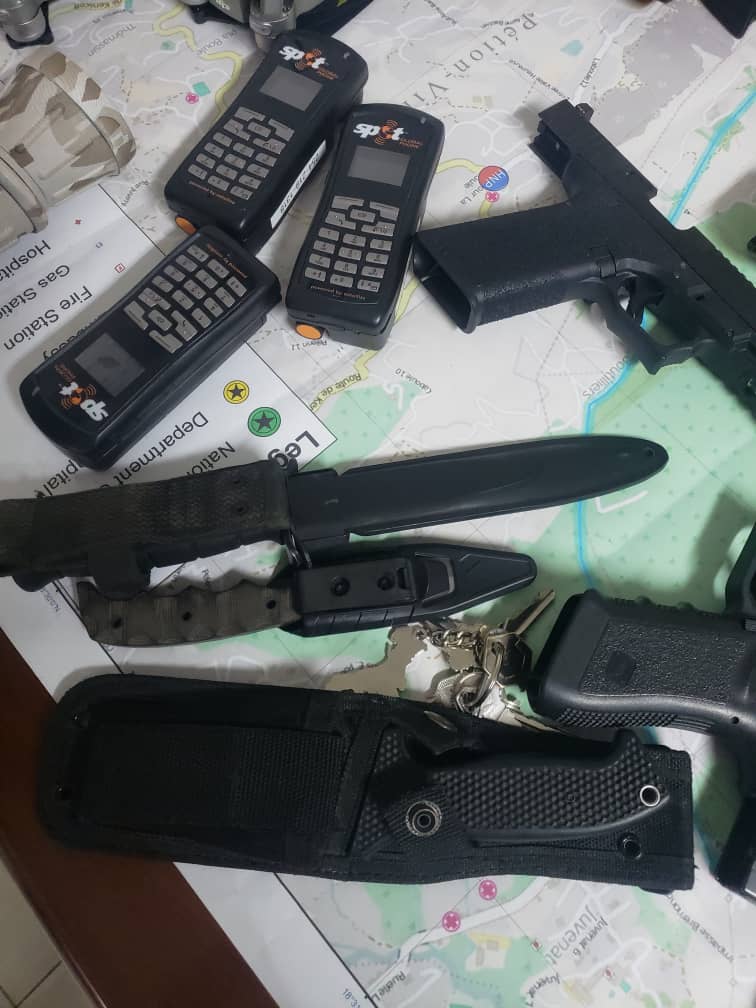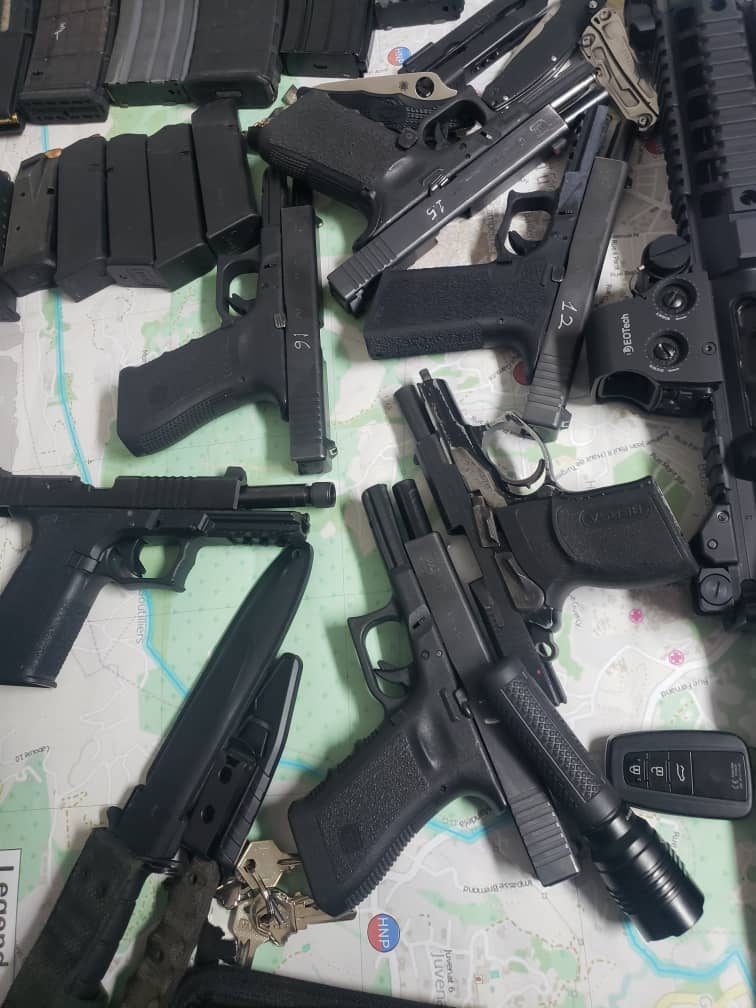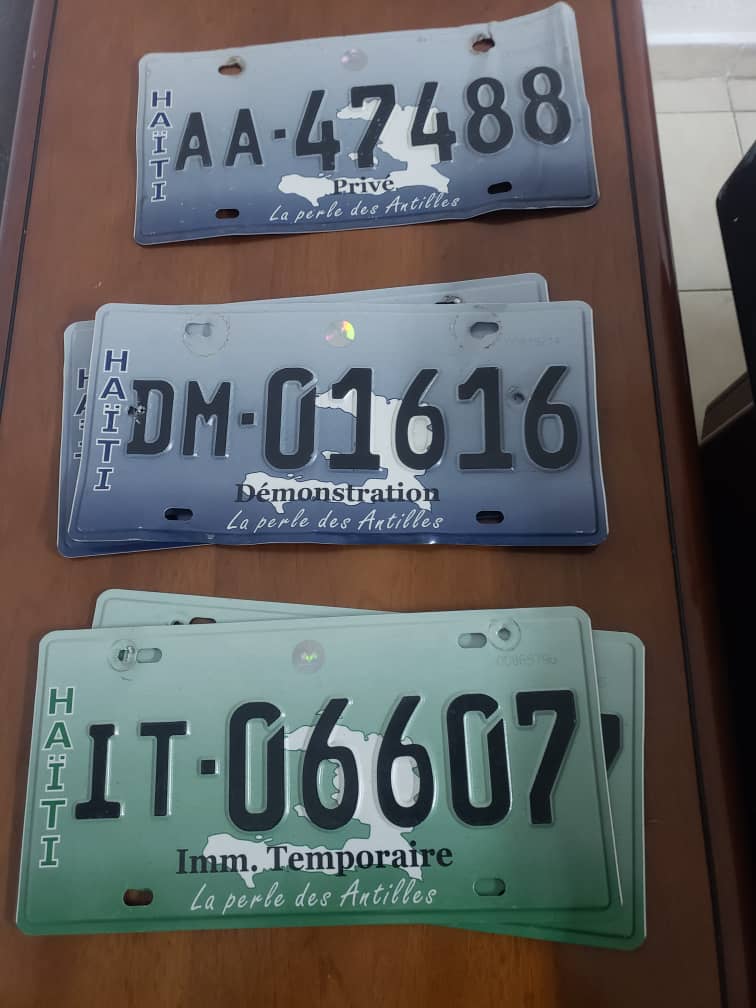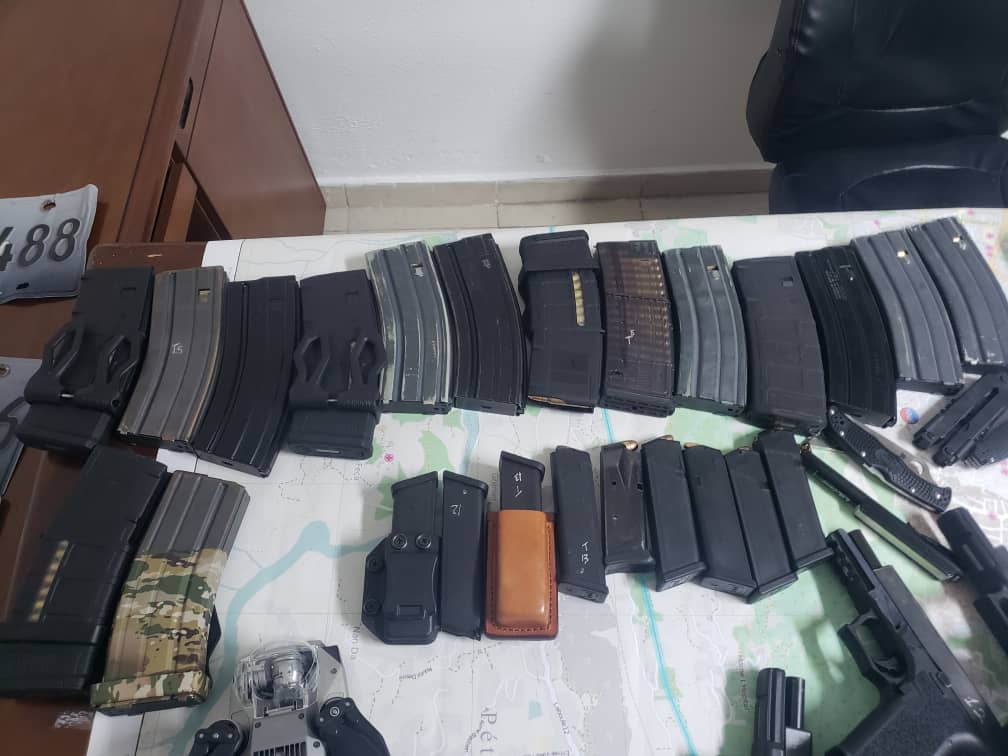 There are several questions surrounding the arrests of the men, including why they are in Haiti, for what purpose, and chiefly, who hired them? Haitians are speculating the detained men are international mercenaries sent to the country to terrorize the people.
The Popular Democratic Sector is convinced these are part of the team of mercenaries hired by president Moise Jovenal and working with USGPN (The General Security Unit of the National Palace, a specialized police unit) to extinguish the mass protests of the people. The Vedeth online portal stated, "President Jovenel Moise has brought home mercenaries to assassinate not only a desperate people who are clamouring for his resignation by demonstrating peacefully but especially his political opponents especially leaders of the democratic and popular sector." It also points to the arrest of his right hand, the mayor of Mole St Nicolas, Christian Joseph, for illegal drug trafficking.
Haiti Information Project reports that the Haitian national arrested by the police was identified as Michael Estera. Estera reportedly works for Gesner Champagne, who is a close friend of the ruling party PHTK founder Martelly and his company Preble-Rish, receiving several large contracts to clean sewage canals in Haiti's capital. The PHTK is a U.S. puppet organization.
According to Bloomberg and VOA, the men were detained at a checkpoint near the central bank. The men have been charged with "illegal possession of weapons for allegedly having with them six assault rifles, six pistols, ammunition, bullet proof vests, drones, telecommunications gear and two vehicles."
While copies of the group's U.S. passports, resident alien cards and Haitian driver's license are circulating on WhatsApp, Haiti National Police officials initially said they still don't know who the men are or why they are in Haiti, which has been rocked by violent protests since Feb. 7.
Interestingly, two American passports were issued in the same year within one month of each other.
The US Marine Corps Major
However, facts have emerged from Haitian journalists on several of the Americans charged, which clearly shows they were not involved in some bank robbery as some media originally alleged.
Kent Kroeker is the son of Mark Kroeker, founder and senior partner of Kroeker Partners, a well-connected US international security operation based in Orange County, California. In May 2016 he participated in a review of the UN Police. [2]
Interestingly its website – which contains no address for the company – is flashing the message, "Note: Kroeker Partners LLC has no active engagements underway in Haiti and is not in a position to offer comments on recent developments in the country." [1]
From the frying pan into the fire: "Their boss would call our boss"
The U.S. embassy was made aware of the Americans' arrest, and its consul general visited the judicial police on Monday where the men are being detained. Asked if it had any covert operations on the ground, the embassy told the police no, according to sources familiar with the ongoing investigation.
In a statement, a State Department official said: "We understand that the Haitian National Police detained a group of individuals, including some U.S. citizens. When U.S. citizens are arrested overseas we seek Consular Access as soon as possible and provide appropriate Consular assistance as provided by the Vienna Convention on Consular Relations. Due to privacy considerations, we are unable to comment further. "
Casseus said when one of his units first stopped the vehicles, the men refused to present their identification or explain why they were heavily armed and traveling in a Toyota Prado and Ford Pickup without plates. Five plates were later found in the vehicles. It was the lack of tags on the vehicles that raised police suspicion, he said, noting that three other police units were also called to the scene, about a block from the central bank in downtown Port-au-Prince, to assist.
"This is something that unfolded over a two-hour, two-and-a-half hour period," Casseus said.
Police found that the vehicles were carrying six automatic rifles, six pistols, two professional drones and three satellite phones. They also found a telescope, backpacks, gun vests, professional tapes and documents, he said.
"There were a lot of documents," he said.
Asked what they were doing in Haiti, the men told police "they were on a mission, and they didn't have to speak to us," Casseus said. "They said they were on a government mission," reports Jacqueline Charles of the Miami Herald.
The men, he said, didn't specify which government had hired them. But at one point, they told officers that "their boss would call our boss," he said. Soon a third vehicle arrived with another individual, this one speaking French. He too was arrested.
"We used professional force to show them that we are serious," Casseus said. "We then took them to the police station."
Two sources have told the Herald that following the arrest, several individuals connected with the Moise administration have tried to get the men released. One even claimed that the men were there to do a security operation for the central bank. A check with the bank's governor by police, however, revealed he was unaware of their presence.
"They have refused to speak," Casseus said of the men. "They've said they don't have to speak."
Casseus, 46, said he doesn't know how long the men were in town, and added their passports did not show any entry stamp for Haiti. However, their visas show they had visited several other countries prior to arriving in Haiti.
A 24-year veteran of the police force, Casseus said the arrests represent "a moment of pride because you're seeing that your orders are being carried out when you pass them. You feel a lot of pride and it's encouraging."
On Monday, the country finally began to see an increase in traffic and activities in the capital and other major cities after protests and violence forced the closure of schools and businesses for nine consecutive days. A protest organized by university students was broken up by police.
The Haitian opposition is calling for the resignation of Haitian President Jovenel Moïse over wrecking of the economy and corruption centred around embezzlement by Haitian oligarchs and their patrons from Venezuela's PetroCaribe oil-discount program. This was a program that benefited the poor and provided funds for development of a self-sufficient economy.
Haiti owes the South American country about $2 billion.
The United States with Canada has led the charge for increased intervention in Venezuela. It has threatened various OAS members like Haiti, El Salvador, and the Dominican Republic, members of CARICOM, with diplomatic and financial action if they voted in favour of non-interference and respect for Venezuela's sovereignty. The Haitian government capitulated to the US dictate and voted against Venezuela at an OAS meeting last month, arousing the fury of Haitians still further.
Haitians have been demanding an accounting of the money, which was supposed to be invested in social programs for the poor after the country's 2010 earthquake.
UPDATE FEBRUARY 21, 2019
Breaking News: Impunity for US military contractors
The eight men including the former US Marine Corps major (partner in a California security company) claimed to be on a government contract. They were arrested Sunday by local police (their car did not have a license plate) with a large cache of arms, drones, bulletproof vests, etc. The US Embassy intervened. They were released, escorted to the airport (without handcuffs) by the US ambassador and boarded Air America flight 1243 from Port-au-Prince to Miami.
Notes
1. "Plausible deniability is the ability of people (typically senior officials in a formal or informal chain of command) to deny knowledge of or responsibility for any damnable actions committed by others in an organizational hierarchy because of a lack of evidence that can confirm their participation, even if they were personally involved in or at least willfully ignorant of the actions… Although plausible deniability has existed throughout history, that name for it was coined by the CIA in the early 1960s to describe the withholding of information from senior officials in order to protect them from repercussions in the event that illegal or unpopular activities by the CIA became public knowledge" – Wikipedia
2. The Linked-in profile of Kroeker senior states: "Following 32 years in the Los Angeles Police Department where he rose to the rank of Deputy Chief of Police, he served as Deputy Police Commissioner of the UN's Mission in Bosnia and Herzegovina (UNMIBH). He later became Portland Oregon's Police Chief where he served for almost 4 years. In 2003, he was appointed the first Police Commissioner for the UN Mission in Liberia, (UNMIL), and later was appointed Police Advisor and Director of the Police Division in the UN's Department of Peacekeeping Operations (DPKO) in New York."
Related reading on this website